Chronic Inflammation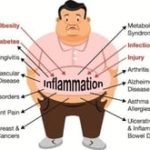 Chronic Inflammation is an inflammation of prolonged duration (usually weeks or months) in which inflammation, tissue injury, and attempts at repair coexist, in varying combinations.
CAUSES OF CHRONIC INFLAMMATION
Chronic inflammation can occur due to persistent infection, immune-mediated inflammatory diseases, toxic agents and foreign bodies.se they can.
GENERAL FEATURES
Chronic inflammation is characterized by infiltration with mononuclear cells which include macrophages, lymphocytes, and plasma cells. Tissue destruction, induced by the persistent offending agent or by the inflammatory cells. And due to attempts at healing, either by connective tissue replacement of the damaged tissue or proliferation of small blood vessels (angiogenesis).
TYPES
Inflammation is divided into following types
GRANULOMATOUS INFLAMMATION
A granuloma is a cellular attempt to control an offending agent that is difficult to eradicate. In this attempt, there is often strong activation of T lymphocytes thus leading to macrophage activation. And therefore causing injury to the normal tissues. It is a microscopic aggregation of macrophages that are transformed into epithelium-like cells and are therefore called as epitheliod cells.
Types of Granulomas
Granulomas are divided into foreign body granulomas & immune granulomas.
Foreign Body Granulomas, form around a material that is large enough to preclude phagocytosis by a single macrophage. And thus does not incite any specific inflammatory or immune response.
Immune granulomas are caused by agents that are capable of inducing an immune response which produces granulomas. Usually, when the inciting agent is poorly degradable or particulate.
SYSTEMIC EFFECTS OF CHRONIC INFLAMMATION
The systemic effects of chronic inflammation include fever, anemia, leucocytosis, and ESR.
Disclaimer:

The information provided on this website (www.MadeForMedical.com) is only for educational purpose.

While we tried hard to write quality articles but still, the articles and the information within them is not guaranteed to be free of factual errors or typos and hence may not be correct. You are advised to independently verify the claims in the articles and make your own conclusion.