Sample Prescription
The prescription is an order written by a physician, dentist or any other medical practitioner to the pharmacist to compound & dispense a specific medication for an individual patient. Sample Prescription
Sample Prescription
Disclaimer:
The prescription available below are for educational purpose only because they are sample prescriptions. Therefore they shouldn't be used for the treatment or of any patient because the information within them is a sample and it must be used for the educational purpose only.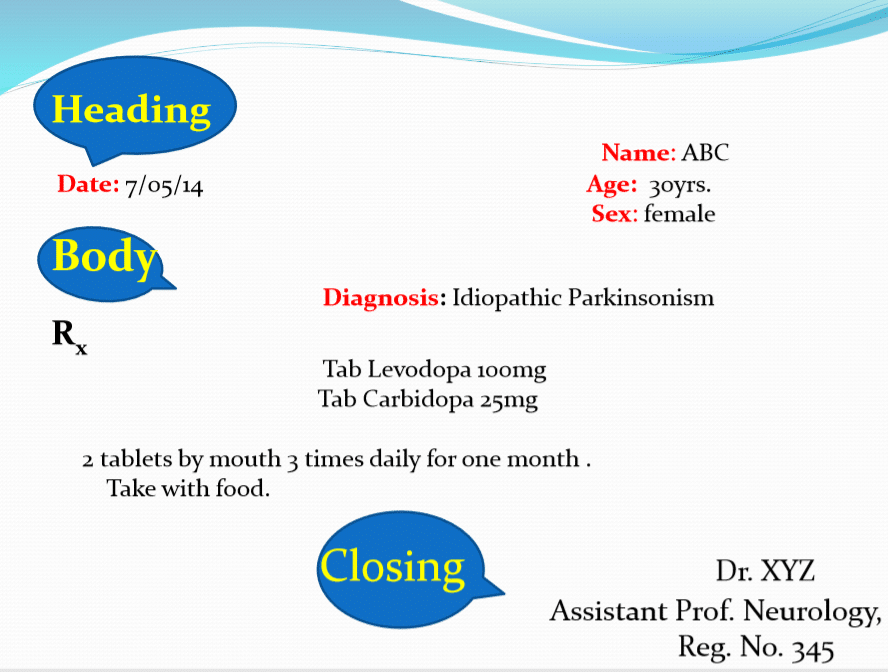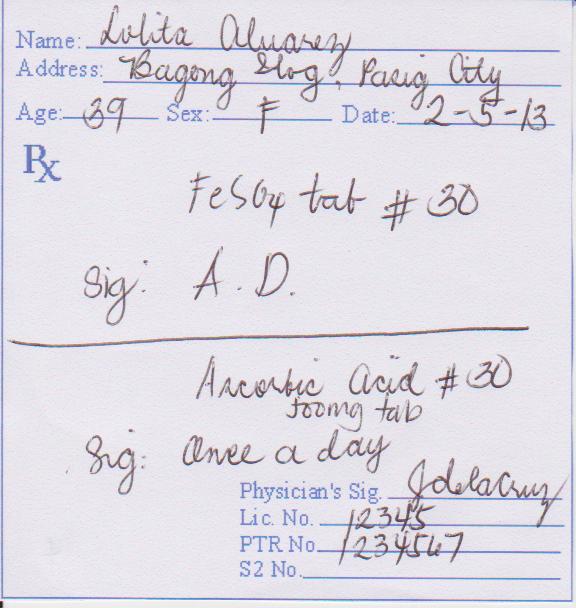 A prescription should have:
Name and the address of the prescriber

because we need the prescriber's identity on the prescription.

Registration number of the prescriber (DEA number in the United States)

because we need the prescriber's identity on the prescription.

Patient's name & address

 we need the patient's identity on the prescription.

Mention the date clearly

because it will help us to keep a record as well as to identify the patient in future.
Codes on Prescription
Record patient codes on the prescription.
A = adult
J = under 16 years
Y = under 6 years
O = script for oral contraceptive
Rx
Rx is an abbreviation for the Latin word "recipere" or "recipe," which means "Take, thou." Most importantly the symbol is said to designate Jupiter" The God of Healing."
Parts of prescription:
Heading:
Date
Personal data of the patient.
Body
Superscription
Inscription
Subscription
Closing
Signature of the patient.
Signature of a physician.
Avoiding Misinterpretation
Use decimal points very carefully because a single mistake can change the dose of the drug.

For example, when you are prescribing 10mL, use the decimal clearly and carefully and therefore, write 10mL instead of writing 10.0 mL or 10.00 mL because we want to avoid misinterpretation.

Use permanent ink

because we want our prescription to be very clear.

The prescription should be completely in English because we don't want any ambiguity.
Specify the quantity where directions are "as needed."

Because it will help to eradicate any misinterpretation.

Try not to use handwritten prescriptions because they are sometimes illegible.

Therefore, try to use computer written prescriptions.
Disclaimer:

The information provided on this website (www.MadeForMedical.com) is only for educational purpose.

While we tried hard to write quality articles but still, the articles and the information within them is not guaranteed to be free of factual errors or typos and hence may not be correct. You are advised to independently verify the claims in the articles and make your own conclusion.