Arsenic Poisoning
Arsenic Poisoning is characterized by projectile vomiting (bloody), burning pain in the stomach, watery diarrhea, dehydration, convulsions, uremia, and skin eruption.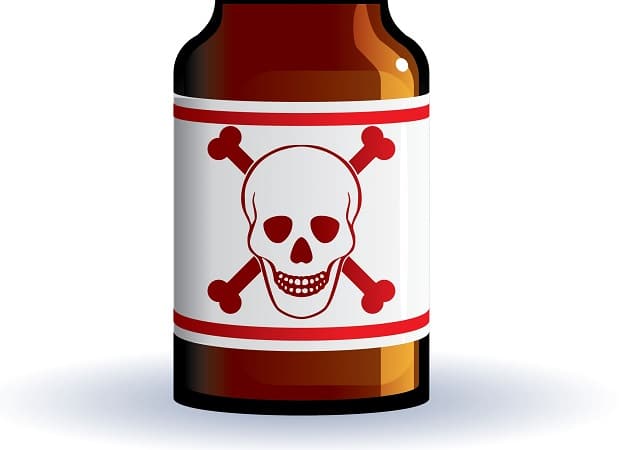 Arsenic occurs in four forms:
Metalic (As), Trivalent compounds (As2O3), Pentavalent compounds (As2O5) and Arsenic gas (AsH3).
Mechanism of Toxicity
Arsenic combines with the -SH group of enzymes of the body and inhibits them. Thus leaving them non-functional. It also inhibits the oxidative decarboxylation of pyruvate to acetyl CoA and binds to the SH group forming a chelate and therefore, resulting in accumulation of pyruvic acid in the blood. Accumulated pyruvic acid interferes with the normal enzymatic activities in the body and disturbing cell metabolisms.
Signs & Symptoms (Acute Case)
Projectile vomiting (bloody)
Burning pain in the stomach
Watery diarrhea
Dehydration
Convulsions
Uremia
Skin eruption
Treatment
Gastric lavage (Charcoal, ferric oxide), Administration of antidote, BAL (Dimercaprol), Sodium thiosulphate, Purgatives, Morphine, Dialysis, I/V fluids & glucose
Differential Diagnosis
Cholera, Food Poisoning can be the differential diagnosis.
ECG Abnormalities in Arsenic Poisoning
ST Segment & T wave abnormalities are very commonly seen in arsenic poisoning.
Delayed Manifestations
Delayed manifestations of arsenic poisoning include foot drop, wrist drop, abnormal gait, paraesthesia, alopecia and peripheral neuropathy.mia.
Postmortem Appearance
Externally:
Dehydrated, jaundice, cyanosis & wrinkled skin are seen externally during postmortem appearance.
Internally
The stomach is red velvet-like, corrosive of mucous membranes, particles of arsenic in the stomach, small acute ulcerations and petechial hemorrhages.
Disclaimer: 

The information provided on this website (www.MadeForMedical.com) is only for educational purpose and is copyrights protected. 

While we tried hard to write quality articles but still, the articles and the information within them is not guaranteed to be free of factual errors or typos and hence may not be correct. You are advised to independently verify the claims in the articles and make your own conclusion.